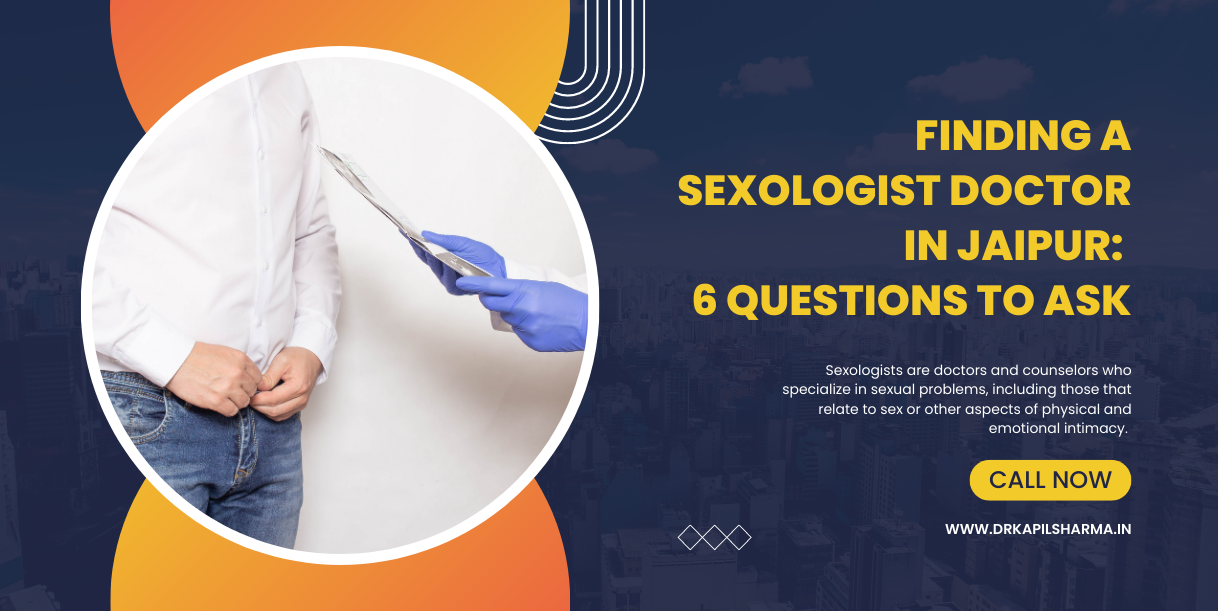 Finding A Sexologist Doctor In Jaipur: 6 Questions To Ask
Sexologists are doctors and counselors who specialize in sexual problems, including those that relate to sex or other aspects of physical and emotional intimacy. You might find yourself consulting a sexologist for any number of reasons – from having trouble with an intimate relationship to problems reaching orgasm to trying to diagnose an unusual or unexplained symptom.
What is a Sexologist Doctor?
A sexologist doctor is a healthcare professional who specializes in sexual health. Sexologists help people with issues related to sex, such as sexual dysfunction, sexually transmitted infections, and sexual identity. They also work to promote healthy sexuality and prevent sexually transmitted infections.
If you're considering seeing a sexologist, there are a few things you should keep in mind. First, make sure you find a qualified healthcare professional. There are many quacks out there who will try to take advantage of you. Second, be prepared to discuss your concerns openly and honestly. Sexology is still a relatively new field, and many people are uncomfortable discussing their sex lives with a stranger. However, if you want to get the most out of your visit, it's important to be open and honest with your sexologist. Finally, be prepared to follow their recommendations. A good sexologist will offer you sound advice based on their experience and expertise.
Where do they work?
According to the American Association of Sexuality Educators, Counselors, and Therapists (AASECT), sexologists are qualified to work in a variety of settings, including:
-Private practice
-Hospitals and clinics
-Community health centers
-College counseling centers
-Corporate wellness programs
-Research institutions
In order to find a sexologist who meets your needs, it is important to ask about their qualifications and experience. Here are some questions you may want to ask:
-What is your educational background?
-Are you certified by AASECT or another professional organization?
-How many years have you been practicing?
-Where do you typically see patients?
-Do you have any specialty areas?
What can they help with?
If you're considering seeing the best sexologist in Jaipur, here are some questions to ask to help you decide if they're the right fit for you.
What can they help with?
What is their experience and training?
Do they have any specific expertise?
What is their approach to therapy?
What are their fees and cancellation policy?
How to find a sexologist doctor in Jaipur
If you're looking for a sexologist doctor in Jaipur, there are a few things you should keep in mind. First, it's important to find a doctor who is qualified and experienced in this field. There are many doctors who claim to be sexologists, but not all of them are actually qualified to treat sexual problems.
Second, you should find a sexologist who is comfortable discussing sensitive topics with you. This is important because you need to feel comfortable discussing your sexual problems with the doctor. If you don't feel comfortable discussing these things, it will be difficult to get the help you need.
Third, it's important to find a sexologist who offers confidential services. This means that your conversations with the doctor will be kept private and will not be shared with anyone else without your consent. This is important because you need to be able to trust the person you're talking to about your sexual problems.
Finally, it's important to find a sexologist who has a good reputation. You can ask around for recommendations from friends or family members who have seen a sexologist before. You can also read online reviews of different sexologists in Jaipur before making your decision.
Questions to ask
What are your qualifications?
How long have you been practicing sexology?
What is your success rate with patients?
Do you have any experience treating patients with my specific condition?
What are the potential side effects of treatment?
What is the expected outcome of treatment?
How long will treatment take?
How much will treatment cost?
Conclusion
If you're looking for the best sexologist doctor in Jaipur, these six questions can help you find the right one for your needs. With the right professional, you can feel comfortable discussing sensitive topics and get the guidance and support you need to improve your sexual health.