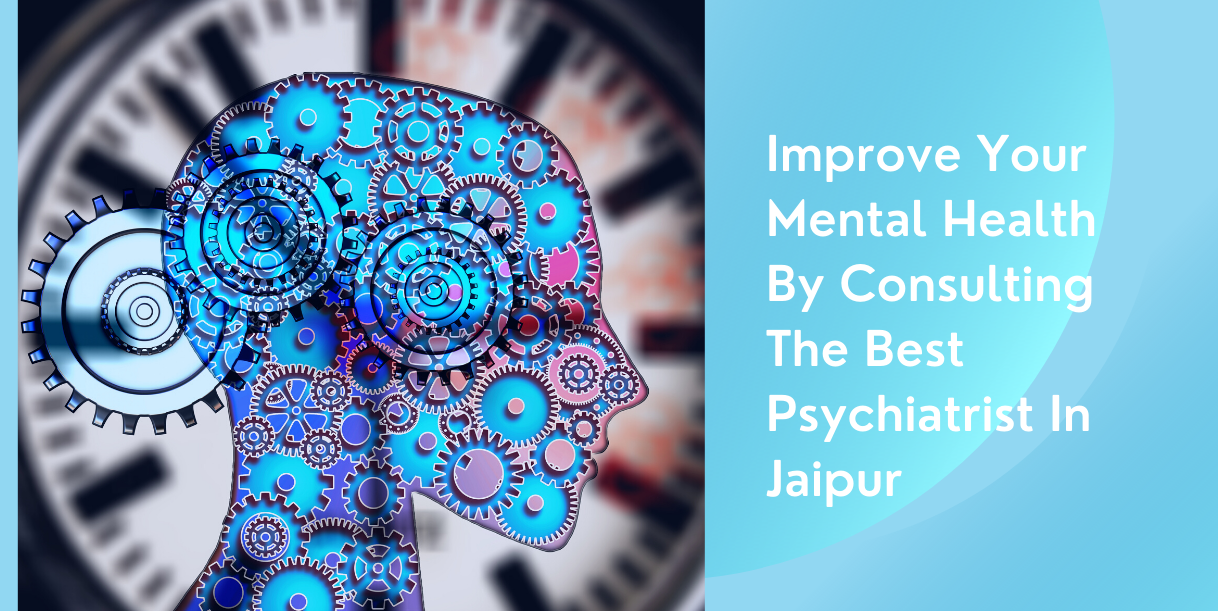 Improve Your Mental Health By Consulting The Best Psychiatrist In Jaipur
If you or someone you know is getting treatment for a mental health condition, you will probably come across several mental healthcare and welfare professionals who will have a role in the mental health treatment. Basically, in today's time, good mental health is very important to manage your feelings and deal with everyday difficulties. However, mental health-related problems are now very common in society.
What are the reasons for mental illness? In spite of the fact that the specific reason for most mental disorders isn't known, it is getting clear through exploration that a considerable lot of these conditions are brought about by a combination of biological, psychological, and environmental factors.
According to the World Health Organization (WHO), over 90 million Indians, or 7.5 percent of the country's population of 1.3 billion, suffer from some form of mental disorder. They suffer from a disorder severe enough to affect school, work, social, or other aspects of daily life. If you think that you or someone you know has a mental disorder, contact the best Psychiatrist in Jaipur today.
What Is Psychiatry?
Psychiatry is the branch of medicine, focusing on medical activities like diagnosis, treatment, and prevention of mental behavioral, and emotional disorders.
A psychiatrist is a medical doctor (an M.D. or D.O.) who specializes in mental health-related sectors, including substance use disorders. Moreover, Psychiatrists are qualified to assess both the physical and mental aspects of psychological problems.
People seek psychiatric help for many reasons. The problems can be sudden, such as anxiety, negative thoughts, panic attack, thoughts of suicide, frightening hallucinations, decrease concentration power, or hearing "voices." Thus, the mental health problems may be more long-term, such as feelings of sadness, negativity, irritable behavior, anxiousness, or hopelessness that never seem to lift or problems functioning, causing everyday life to feel distorted or out of control.
What does a psychiatrist do?
Psychiatrists examine all of your mental and physical symptoms. They make a medical diagnosis or treatment and develop a proper plan to work with you on your treatment and recovery.
In order to achieve results, they provide psychological treatment, prescribe medications, and do procedures such as electroconvulsive therapy.
As part of their work, a psychiatrist can:
Provide you urgent care for a sudden mental illness.
Help you overcome mental illness problems.
Help you to manage a long-term mental health condition.
Provide good advice about lifestyle changes.
Work with you individually, or with you and your partner, family, or carers.
Admit you to hospital if required.
What can a psychiatrist help with?
A psychiatrist can be of particular help if your mental health condition:
Is complex or difficult to diagnose.
Involves suicidal ideas or plans.
Is severe or happens suddenly.
Needs medication that only a psychiatrist can prescribe.
Isn't responding to standard treatment through your GP (family doctor).
Top Psychiatrist Doctor In Jaipur
There are various Psychiatrist Doctors in Jaipur, but whose work patients praise the most is Dr. Kapil Sharma.
Dr. Kapil Sharma is the best Psychologist In Jaipur who has been awarded many times for their outstanding work.
He is a highly qualified psychiatrist in Jaipur with 13+ years of experience in the field. He completed MBBS from Kolkata and MD in psychiatry from SMS Medical College & Hospital, Jaipur.
With extensive experience in mental health, he can easily cure patients who have mental health problems.
He specializes in the following diseases-
Neuropsychiatrist
Drug/Alcohol Addiction
Sleep Problems
Tic disorder
ADHD
Autism: During childhood
Migraine Headache
Fits / Seizures
Old age problems
Suicidality
OCD
Headache
Schizophrenia
Bipolar Disorder
Anxiety
Depression
Mental Health & Neurological Problems