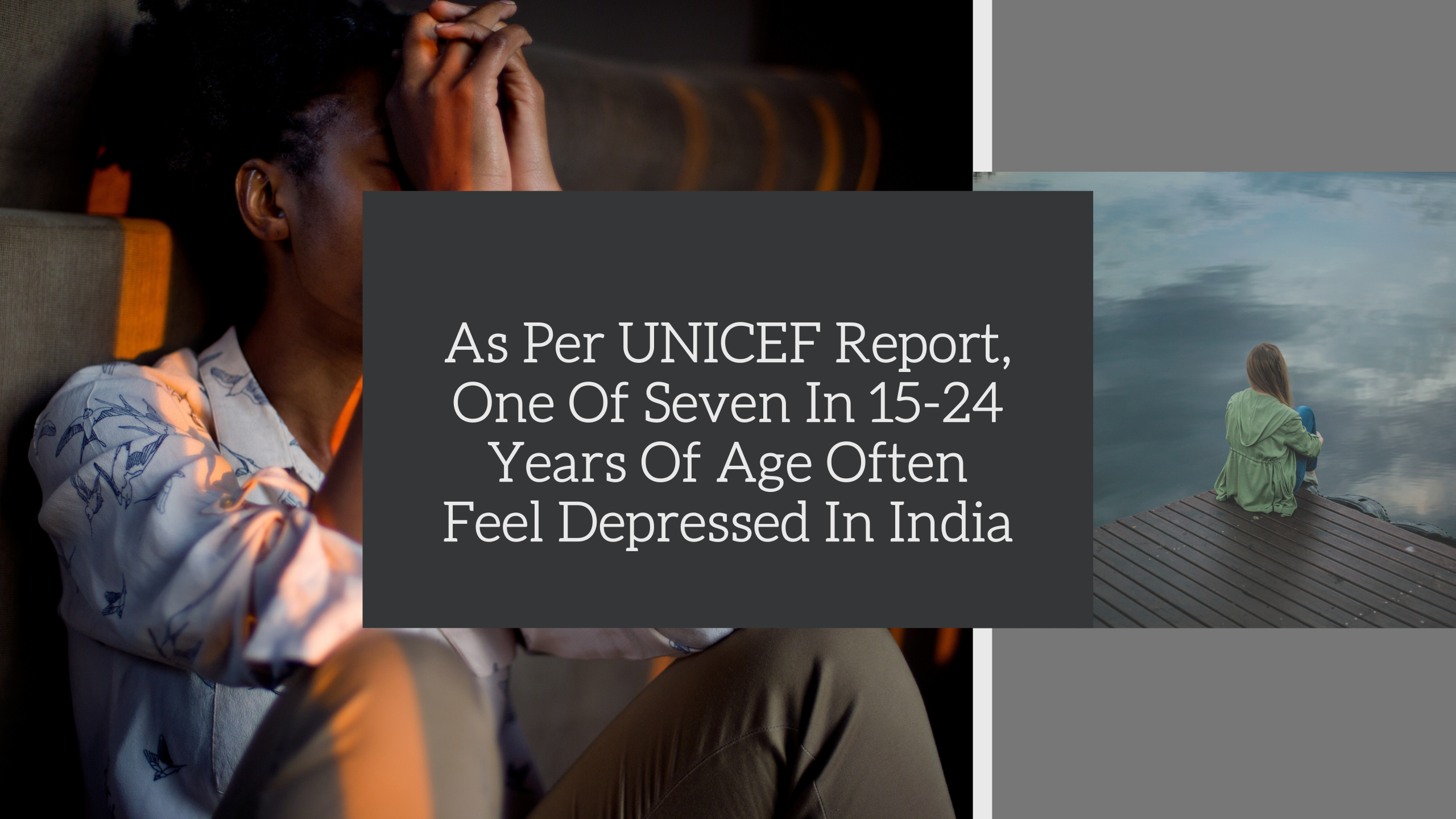 As Per UNICEF Report, One Of Seven In 15-24 Years Of Age Often Feel Depressed In India
The Covid-19 pandemic has driven a huge number of individuals into anxiety and depression. While its adverse consequence on emotional well-being and mental health has been generally discussed, little is done towards really handling it.
As per an overview by International Labor Organization (ILO) – a United Nations office, a large portion of the world's youth population are facing mental health- depression or anxiety problem, causing conditions and in excess of a third are questionable of their future profession prospects because of the COVID-19 pandemic.
As the best Psychiatrist in Jaipur, people can overcome mental health-related issues following regular practice. Here we will talk later about how to cure mental health-related issues.
The ILO's 'Childhood and COVID-19: Impacts on jobs, education, rights and mental well-being' survey found that if the critical move isn't made, adolescents are in danger of experiencing extreme and dependable unfriendly effects from the pandemic.
Amid the ongoing COVID-9 pandemic, UNICEF has released a report in which it is stated that around 14 percent of 15 to 24-year-olds in India, or 1 in 7, have often felt depressed.
In the report on mental health, 'The States of the World's Children 2021', UNICEF has illustrated in stark terms how events in the wider world can affect the world inside our heads.
According to the UNICEF survey across 21 countries, only 41% of youngsters in India were able to look for help for emotional well-being issues, contrasted with a normal of 83% for 21 nations.
Releasing the report, minister Mandaviya said, "Mental health has widely been discussed in our Sanatan culture and spirituality. The mutual development of mind and body has been explained in our texts. A healthy mind resides in a healthy body. We are very happy that today UNICEF has released a global report on the mental health of children".
The Union Minister further said that in our society the trend of living alone instead of joint family is increasing." Today parents are not able to give enough time to their child, so we need to talk about mental health," he said, and added, "We have been told that around 14 percent of children worldwide have a mental health problem. It has to be taken seriously."
If you are not feeling well then consult the best Psychiatrist Doctor in Jaipur immediately.
What are the major symptoms or signs of depression in men?
Different people have different symptoms, but some common depression symptoms include:
Anger, irritability, or aggressiveness
Feeling anxious, and restless
Loss of interest in work, decreasing concentrating power.
Problems with sexual desire and performance
Feeling sad, hopeless, or "empty" flat
Remember details or other information
Feeling very exhausted,
Having problems in sleeping, or sleeping too much
Overeating or not wanting to eat at all
Getting suicidal thoughts or suicide attempts
Physical aches or pains, headaches, cramps, or digestive problems
No able to meet the responsibilities of work, caring for family
Engaging in high-risk activities
A need for alcohol or drugs
Withdrawing from family and friends or becoming isolated
Few out of every odd man who is discouraged encounters each indication. A few men experience a couple of manifestations while others might encounter many.
How to Cure Mental Health Related Issues?
Medication– Follow proper medication, suggested by the best psychologist in Jaipur, to manage the symptoms, such as depression, or anxiety.
Psychotherapy– Psychotherapy is considered the best way to overcome the problem related to mental health. In this, you can learn different ways to respond to challenging situations. The best psychotherapist follows several techniques that they use to help patients identify and modify thoughts, behavior, and emotions.
Lifestyle Change– In some cases, changes in your lifestyle can make a huge difference. For instance, exercise, yoga, running, or meditation is one of the treatments for mild depression.
Conclusion
If you are unsure of how to or where to go for help related problems to mental health, ask your family doctor, health care professional, or the best psychologist doctor in Jaipur. You can also follow these methods discussed above.